Delicious Roasted Pepper Greek Fusilli Pasta with Kalamata Olives and Fresh Vegetables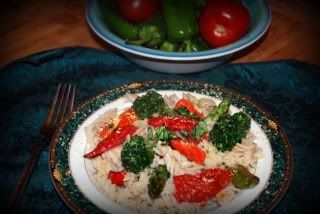 I hope to see you there!
A very simple yet elegant dish that will tantalize your taste buds. Your family will think you've slaved away in the kitchen preparing this delicious Greek dish with roasted peppers, fresh vegetables and whole grain pasta. This dish combines very simple ingredients with a homemade parmesan cheese that really adds to the flavor of the roasted peppers and simple whole grain pasta.
I have been so busy lately I haven't had much time to think, let alone sit down and post another recipe. Today I am short on time but I wanted to post a quick recipe to add to your delicious recipe collection this week.
Hubby and I are celebrating our 15 year wedding anniversary so I will be gone for the next couple of days. I will be eating out and enjoying being pampered in a hotel.
Okay, so back to the recipe. Hubby got home late Monday night and wanted a bowl of cereal, he poured his FAVORITE cereal and then I pulled out leftovers just wanting him to try it to see if he thought this simple recipe was blog worthy and he LOVED IT! He ate quite a bit of the leftovers and then stuffed himself with the cereal since he had already poured on the soymilk.
This delicious vegan Greek pasta recipe can be made very quickly, tossed together on a whim so save this one for when you are short on time. You can prepare all the ingredients at the same time, roast the peppers while boiling pasta and sauteeing veggies so really it should only take about 20 minutes to get this delicious pasta dish on the table.